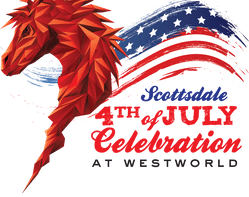 Scottsdale releases July 4 information
City of Scottsdale
Most City offices will be closed Monday, July 5, in observance of Independence Day (Fourth of July). There is no change in garbage or recycling collection.
Subaru Presents Scottsdale 4th of July Celebration at WestWorld
"Subaru Presents Scottsdale 4th of July Celebration at WestWorld" returns for the eighth year, from 5-10 p.m. Sunday, July 4.
The event will deliver fresh, family entertainment with the largest fireworks show in Scottsdale's history – twice the size of last year's show.
The patriotic celebration of family fun takes place in the cool, air-conditioned comfort of the North Hall at WestWorld, giving rise to the slogan "Be Red, White & COOL." Scottsdale 4th features a delicious backyard barbecue buffet-style menu; live patriotic music; snow and a giant slide to keep the kids cool; face painters, balloon artists and more. There are a variety of ticket packages from which to choose.
Preserve closes early on July 4
To reduce the threat of wildfire, Scottsdale's McDowell Sonoran Preserve will close at noon Sunday, July 4.
All trailheads into the preserve will have "closed" signs posted. Scottsdale police and staff will patrol the area to advise visitors about the closure and fire threat. Violating the closure is a misdemeanor punishable by up to four months in jail and a $750 fine.
The preserve will re-open around 5 a.m. Monday, July 5.
Pinnacle Peak Park, 26802 N. 102nd Way, will be open from 5 a.m.-8 p.m. July 4.
For more information about the park, contact staff at 480-312-0990.
Fireworks restrictions in place
Although use of some consumer fireworks is permitted by state law in Scottsdale this holiday, their use in and near many sensitive desert areas remains illegal and violators are subject to substantial fines.
Use of fireworks is prohibited in Scottsdale's McDowell Sonoran Preserve, Pinnacle Peak Park and all properties located within 1 mile of these fragile desert lands. The use of fireworks is also prohibited on all publicly owned properties, which include but are not limited to, city buildings, city parking lots, city parks, public schools and city streets.
Violation of these restrictions is a civil offense punishable by citations and fines.
For more information about firework restrictions and a variety of safety tips, visit ScottsdaleAZ.gov, search "fireworks."